MOTEL ACCOMMODATION CHRISTCHURCH
A very warm welcome to the 2 On Whiteleigh Motel in Addington, now one of Christchurch's top locations and a major area for events.
We are all here to give you service of the highest standard to make your stay in our brand new architecturally designed 5-star Christchurch home away from home.
Our reception has a FREE booking facility for all your tours and activities – local knowledge is the best.
Cheap Motel Accommodation Addington NZ
Book now as we are here to help in any way with all your requests to make your holiday enjoyable in every way.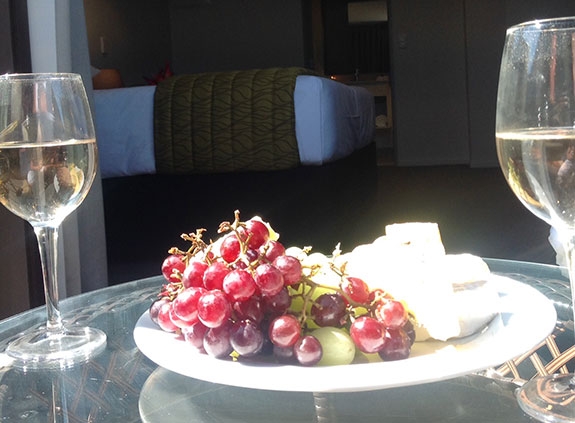 About Us
The 2 On Whiteleigh Motel was architecturally designed by Keith Asher, one of Christchurch's top architects.
In a first for Christchurch there are joining internal doors allowing the guest the flexibility to choose the bedding arrangement to suit their needs. This gives the guest a bathroom and kitchen facilities in each studio, eg a super-king or twin studio is fully self-contained with a luxury tiled bathroom shower large enough for 2 people, so if a guest chooses to book 2 x studios this then gives them 2 x bathrooms and so on if 3 x studios room are booked.
All of our rooms offer UNLIMITED FREE fibre WiFi for fast internet access, MySky 50+ with Sports channels and joining internal doors to most of our VERY SPACIOUS luxuriously furnished rooms, all fully sound-proofed for rest and relaxation.
Only the Best
Sleep is very important so we have gone that extra mile to include luxurious top-of-the-line spinal beds.
Also included are 43" Smart TVs with internet access to watch holiday snaps on a large screen, luxury linen and bathrobes to help you unwind and relax, fully tiled showers that are large enough to stretch out and enjoy, continuous hot water with amazing pressure, air-conditioning/heat pump, Bluetooth charging radio alarm clock next to your bed and fully self-contained kitchens for that peaceful night in.
We offer a continental breakfast served in your room at a reasonable price, for more information please email reservations@2onwhiteleighmotel.co.nz